Time for a Recipe: Lemon Myrtle Coconut Syrup Cake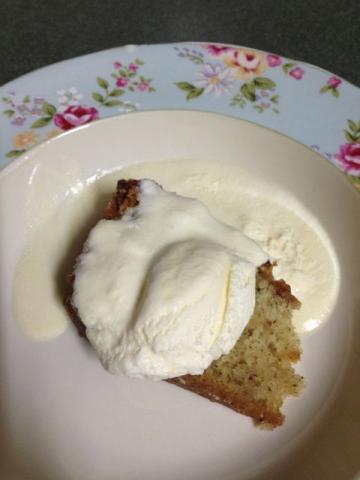 Some time ago I posted a photo at my author page on Facebook of the most divine and totally out of this world, scrumptious circle of decadence called a Lemon Myrtle Coconut Syrup Cake. (Can you tell how much we loved it?)
Now I have always been a tad intrigued by lemon myrtle for a number of reasons. One, the words alone have a lovely ring to them. Just roll those syllables around your mouth, 'lemon myrtle, lemon myrtle …' Within me, just saying them aloud invokes feelings of sweetness, warmth and comfort. It makes me think of winter, of open fires and company of the best kind. And this cake has sweetness, warmth and comfort, in wagon loads. The other reason is, way back in Osborn folklore there was a beautiful woman named Myrtle who has always intrigued me. She poses in a wedding photo as bridesmaid to my Great Aunt Annie. She wears a stunning dress, the most amazing hat and there's a lot going on behind her eyes. I can't help but wonder each time I look at her, what her life was like, what she was like. And in our family archives we even have a prayer book she gave to a family member so I can see how she wrote. But our Myrtle will have to wait for another time (and another book) as I digress …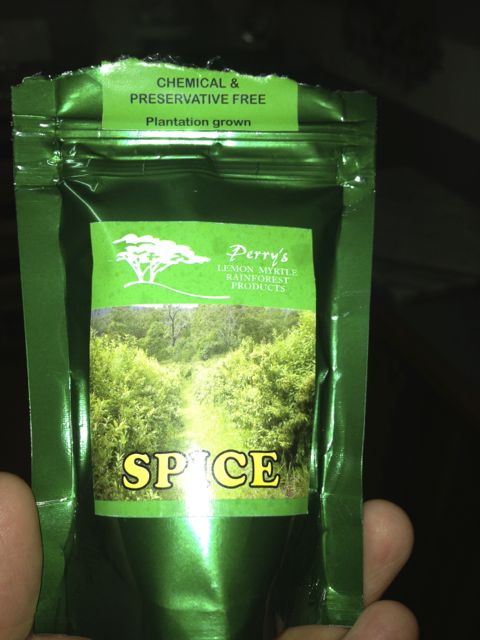 Back to the lemon myrtle.
Before I could investigate how to use this lovely sounding native spice, I had to find some. It took me a while until …
Ta-DAAAA!
Enter the Lardner Park Farm field days and a lovely lady called Michelle, who came to buy my book MOUNTAIN ASH. We got talking, as you do while you sign a reader's book, and lo and behold, she was an exhibitor at the field days selling, LEMON MYRTLE. Well, I thought all my birthdays had come at once. I worked out where to find her and in one of my VERY infrequent breaks (read 10 minutes tops out of an 8 hour day), I sprinted to find her stall.
Here I found every conceivable way to use this native Australian tree whose leaves have a refreshing, spicy lemon taste. Lemon Myrtle is a rare plant, restricted to Queensland and New South Wales, and considered endangered.
I also found out it has been cultivated since the early 90's.The Perry family established one of the first commercial Lemon Myrtle plantations nearly 15 years ago. This family run business is situated on the Mid North Coast of NSW, Australia, a highly conducive region for growing Lemon Myrtle trees in their native environment.
I was in heaven smelling all the different products Perry's produce. Tea, spice, soaps, shampoo & conditioner, face moisturizer, essential oils, pet balm, deodorant, air freshener and melts. My nose was quivering with delight.
Subsequently I delightedly ran back to my stall carrying a packet of lemon myrtle spice … and soap … and tea … and ….mmmm … we'd best stop there. 
You can find all their products here and they have an online store so you can buy their spice for approximately $12 for 40gm. (Most recipes I have come across use two teaspoons of lemon myrtle so 40gm will last you a while.)
Once I was back home on the farm and in cooking mode, I went on the hunt for a recipe to use my precious new packet of lemon myrtle spice whilst sipping my new lemon myrtle tea after washing my hands with lemon myrtle soap
 Sigh. The scent is intoxicating!
I found this recipe for a Lemon Myrtle Coconut Syrup cake on the lemonmyrtle.com.au website, another place you can purchase lemon myrtle products. http://www.lemonmyrtle.com.au states it is a prize-winning recipe from the Northern Rivers Herb Festival Courtesy of Silvana Smith, Mullumbimby, NSW.
And I can assure you, I am hooked. It is DELICIOUS beyond any more words!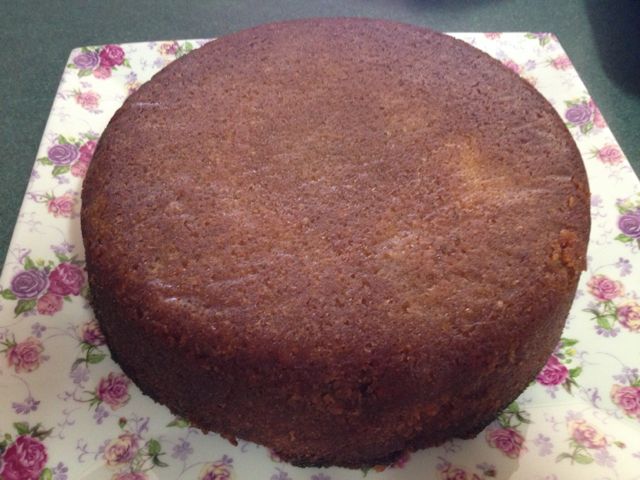 (I also to tried some lemon myrtle biscuits. We found they were nice, but nowhere near as delicious as the cake!)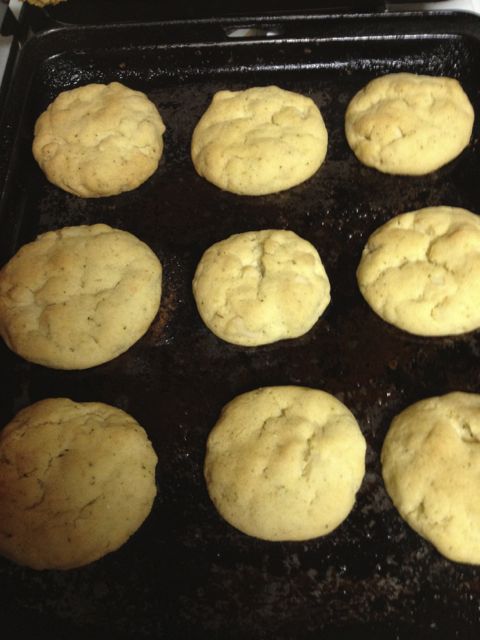 (Thank you to Perry's via the Lardner Park Farm Field Days for supplying me with this wonderful Australian native spice, and http://www.lemonmyrtle.com.au for sharing Silvana's recipe.)
Lemon Myrtle Coconut Syrup Cake
Ingredients
125g unsalted butter
1 cup caster sugar
4 large eggs
2 cups desiccated coconut
1 cup self raising flour
2 tsp ground lemon myrtle
Method
Cream butter and sugar until light and fluffy. Add eggs one at a time and beat well after adding each one. Stir in coconut, flour and ground lemon myrtle gently until combined. Put mixture into a greased and base lined 20 cm (8") round cake tin and bake at 160º Celsius for 1 hour or until cooked.
Syrup
1 cup (250g) sugar
½ cup of water
1 tsp ground lemon myrtle
Juice of 1 lemon
Method
Bring all ingredients to the boil stirring until sugar is dissolved. Strain lemon myrtle from syrup and pour the syrup over cake as soon as it comes out of the oven. Leave cake to cool in tin before turning out.
They say on the recipe you can serve accompanied by orange segments and blueberries and cream or natural yoghurt.
BUT I accompanied mine with yummy creamy vanilla ice-cream. Ooo La La!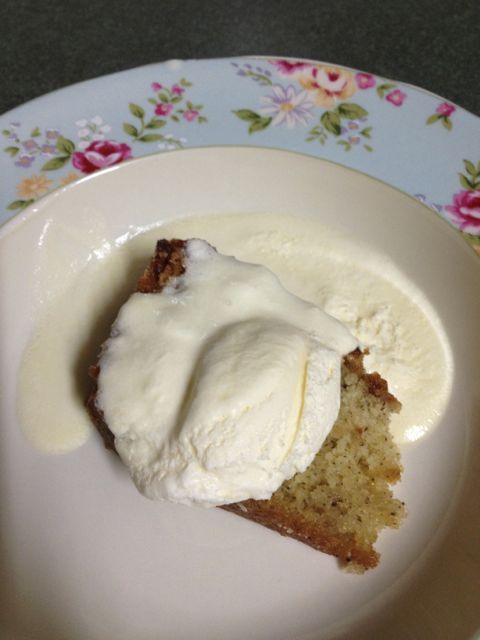 ENJOY!