Around the state in (nearly) seven days - ROSE RIVER TOUR & Lardner Park Dates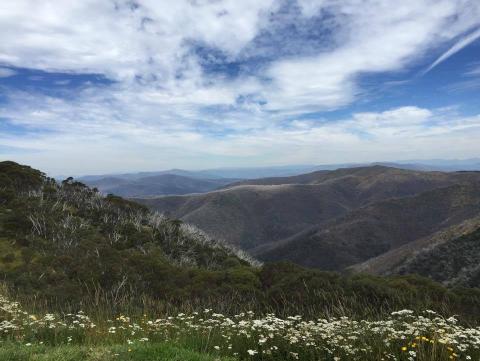 *** NEWS FLASH ***
ROSE RIVER - is in the top 5 on the Australian Best Sellers list!!!
And it's sitting at No 8 on Random House's in-house best-sellers list.
Our Gippsland based book is rubbing shoulders with heavyweights like the Fifty Shades Trilogy, James Patterson's latest and Danielle Steele. There's even a Man Booker Prize winner (Richard Flannagan's Narrow Road to the Deep North)...
I'm trying to stay calm here ... but you know, that's such a wonderful thing for a rural based, laugh-out-loud, heart warming story about the thrills and spills of life on the land to be hanging out in that kind of company.

... So please forgive me, but, dash it, I can't do the calm thing any longer. I'll just have to jump around and yell a bit here on my hill - WOO HOO!!! YA HOO!!!
You readers are the best!
Oh and it's even made it to your TV screens! Yep. ROSE RIVER Is currently screening across Foxtel, (which I don't have, but hope a lot of Australians do have and take a little notice of ...

)
Oh dear, I'm feeling a bit dizzy. All this dancing around is too much and now the cows are looking at me all weird ...
Ahem.
Settle down sunshine.

Thank you, thank you, thank you all of you wonderful, supportive readers. It's such a thrill to know that you still love to read our stories.
Now a bit of a catchup as life's been at break-neck speed since ROSE RIVER came out.
ROSE RIVER LAUNCH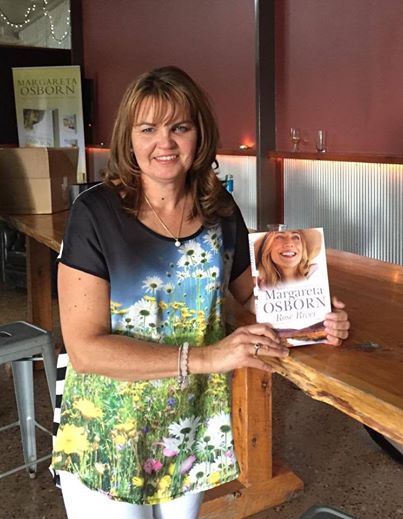 It was such a buzz to catch up with around 180 wonderful readers and mates at the Blue Gables Winery, Upper Maffra West, for a fabulous afternoon event to to launch ROSE RIVER into the big wide world. What a day!
I started to chat with people as soon as I arrived, moving my way from table to table, thanking people for coming to support us on the day. By the time I'd gone around once, more people had arrived and I was just about to head off round again, but found out it was time to be interviewed by well-known former radio identity Penny Monger! I'm really sorry that I didn't get to chat with everyone who came on the day, but I do hope you all enjoyed yourselves. I have heard tell that everyone had a great time and Penny did a fabulous job of the interview, drawing out the inspirations and stories behind the writing of ROSE RIVER. What fun we had!
I was also thrilled to have in attendance fellow Gippsland author Barry Heard (WELL DONE THOSE MEN amongst other titles) and his lovely wife. And yes, we just had to get lots of photos!
ROSE RIVER TOUR PART 1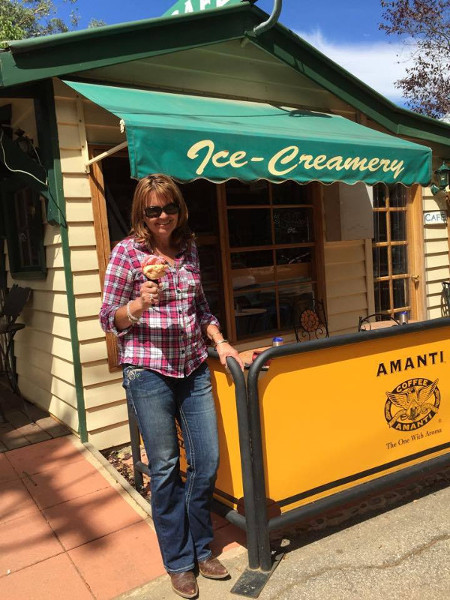 Monday morning dawned bright and clear (until the muttering started), and it was time to head off on the first leg of the ROSE RIVER book tour. With a Toyota Corolla as our hire car, it took a LOT of pushing and shoving to get two women, two suitcases, boxes and boxes of books and all the associated paraphernalia into the car ... but we did it ... eventually (sucked in tummies due to seats being pushed so far forward), we took off at around 9am. With my good friend Jen as co-pilot, Albury was our first stop after a beautiful drive over Mount Hotham (the wildflowers were spectacular). I just HAVE to mention the homemade ice-cream at Morrie's place in Harrietville. It is superb. It could give the ice cream I found outside Bundberg in QLD on last year's book tour a run for it's money! Morrie's is a MUST stop if you're in the vicinity. It's even worth driving from Glenmaggie for!
After a lovely night with the Dymocks Albury book club, we travelled onto Grenfell where we were met by librarian Ann, who had arranged the most delightful event. Ann gave me the very best introduction I have ever had in my entire career (books or otherwise) and the luncheon looked just delicious. Unfortunately we had to move on, but we were greeted in Bathurst by Kathryn at BooksPlus and her lovely staff, with a cuppa plus a divine homemade carrot cake! YUMMY! Oberon, Mudgee (where we managed to lock ourselves out of our room whilst wearing P.J.'s!) and then to Wellington we travelled.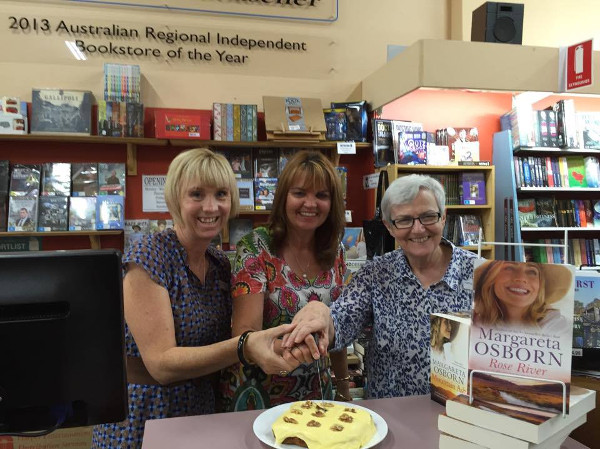 It was here I met the most talented group of ladies who had formed the local Wellington craft group nicknamed SABLE - Stuff Accummulated Beyond Life Expectancy 

 Their craft work was out of this world.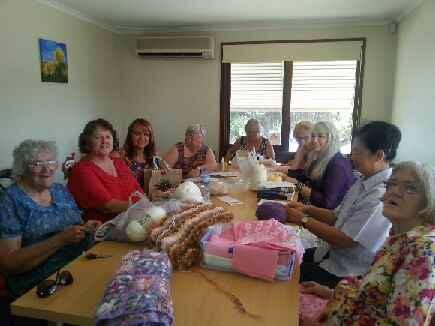 Onwards to Dubbo (after losing the non-descript white Corolla for a good 10 minutes :)), and a lady who had travelled 5 hours from out the back of Bourke to hear my talk, buy all my books and say g'day. My oh my, was I chuffed (and amazed). Turns out she also breeds some of my most favourite cattle (Santa Gertrudis) and her husband loves old machinery (just like H) and was setting up a museum. I can feel a trip to Bourke coming on sometime in our future.

A four hour drive out to Griffith library for a talk (with a little stop at a delighful homewares shop called Kristy's Cottage in West Wyalong where I did some bank balance damage ...ho hum ...) and then it was time to head east again. Peter and staff at the incredible Collins Bookstore in Wagga made us very welcome (Swoon, this is the bookstore to end all bookstores) and I signed piles and piles of books.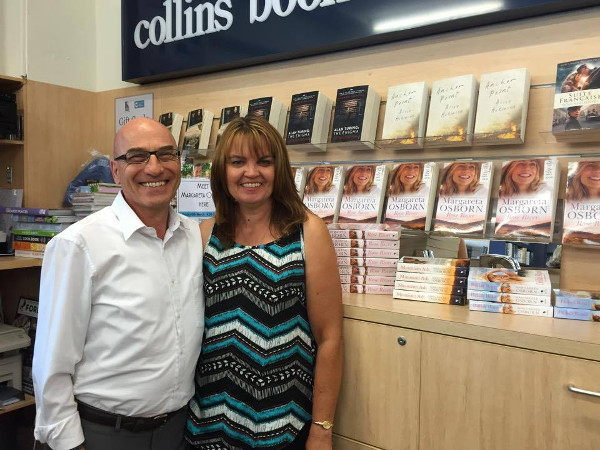 Jugiong Writer's Festival was next on the itinerary where I met up with Freda Marnie Nicholls (LOVE SWEAT AND TEARS etc.), Peter Rees (THE ANZAC GIRLS etc.), Tim Fischer and Sulari Gentill (ROWLAND SINCLAIR series). It was a beautiful day for an inspriring and well-run festival.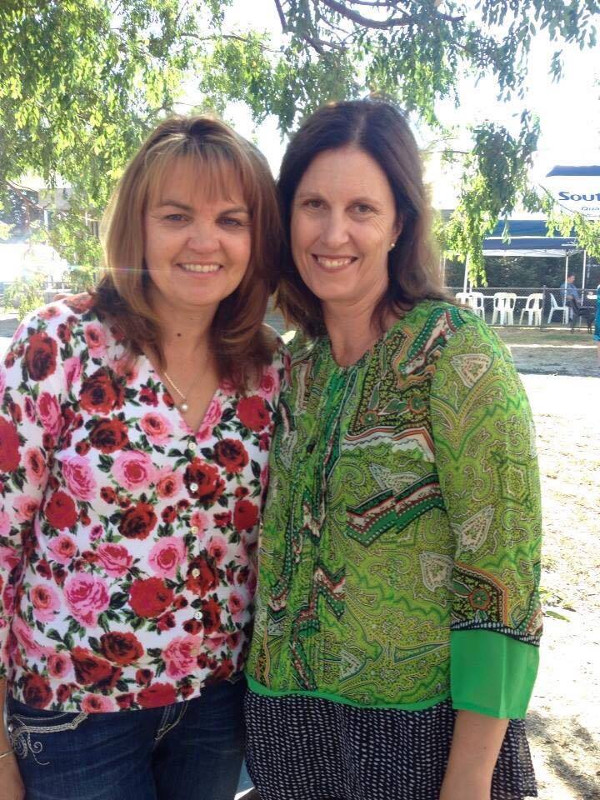 Canberra and the Romance Readers Convention was the last stop on the list. A panel with fellow rural authors Barbara Hannay, Cheryl Adnams along with US author supremo Victoria Dahl was a highlight.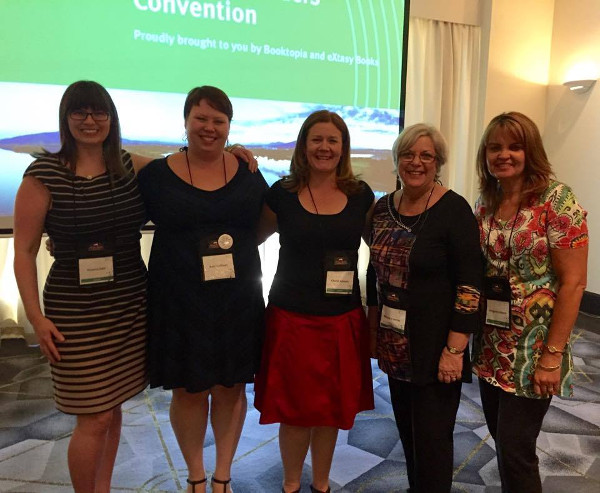 Finally at 4pm Sunday we set the bonnet of the Corolla for home, landing over the farm's cattle grid at 11.10pm on Sunday night. We dodged a few roo's but we were finally home. Whew!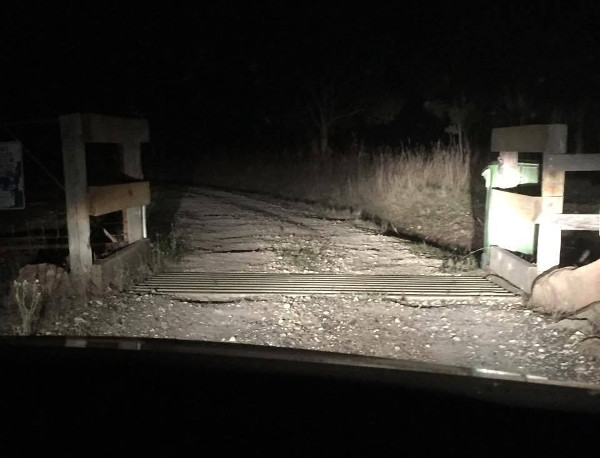 ROSE RIVER TOUR PART 2
This week (March 18 - March 21, 2015) we are off again. Western and South Western Victoria is our destination with events at Waurn Ponds, Ballarat, Horsham, Hamilton, Warrnambool, Colac, Gisborne and Fountain Gate. Please see the appearances page for details. As you know by now, I love to meet the readers of my books. I really hope to meet you somewhere and we can chat about the inspirations behind ROSE RIVER, writing, publishing, and anything else we'd care to waffle on about!
ROSE RIVER TOUR PART 3 - LARDNER PARK FARM FIELD DAYS 26TH - 29TH MARCH, 2015
I will be at Farmworld, Lardner Park, Warragul for the full four days, that's when I haven't ducked away for 10 minutes to check out boots, shirts, hats, plants, wood stoves and interesting cattle

.
We will be at our usual spot in the General Interest Pavillion (GIP17). Look for the red and white gingham table cloths and me sitting up my rustic, handmade signing table. We have a gorgeous NEW Farmworld pack to giveaway this year with every copy of ROSE RIVER sold (as long as stocks last). So get in early for some nice treats! Love to see you there!!!
AND REVIEWS ...
If you've read ROSE RIVER and liked it, I'd love you to place a review on Goodreads, the Random House Website or iBooks/Amazon (if you read it as an ebook). The links are all on the book page here. Just a few words would be great ... It really helps we authors and makes the job of choosing books easier for other readers to know someone has read and enjoyed a book before them. Thank you so much.
Onwards the book tour rolls ...
Until next week, if I don't see you before!
Margareta x